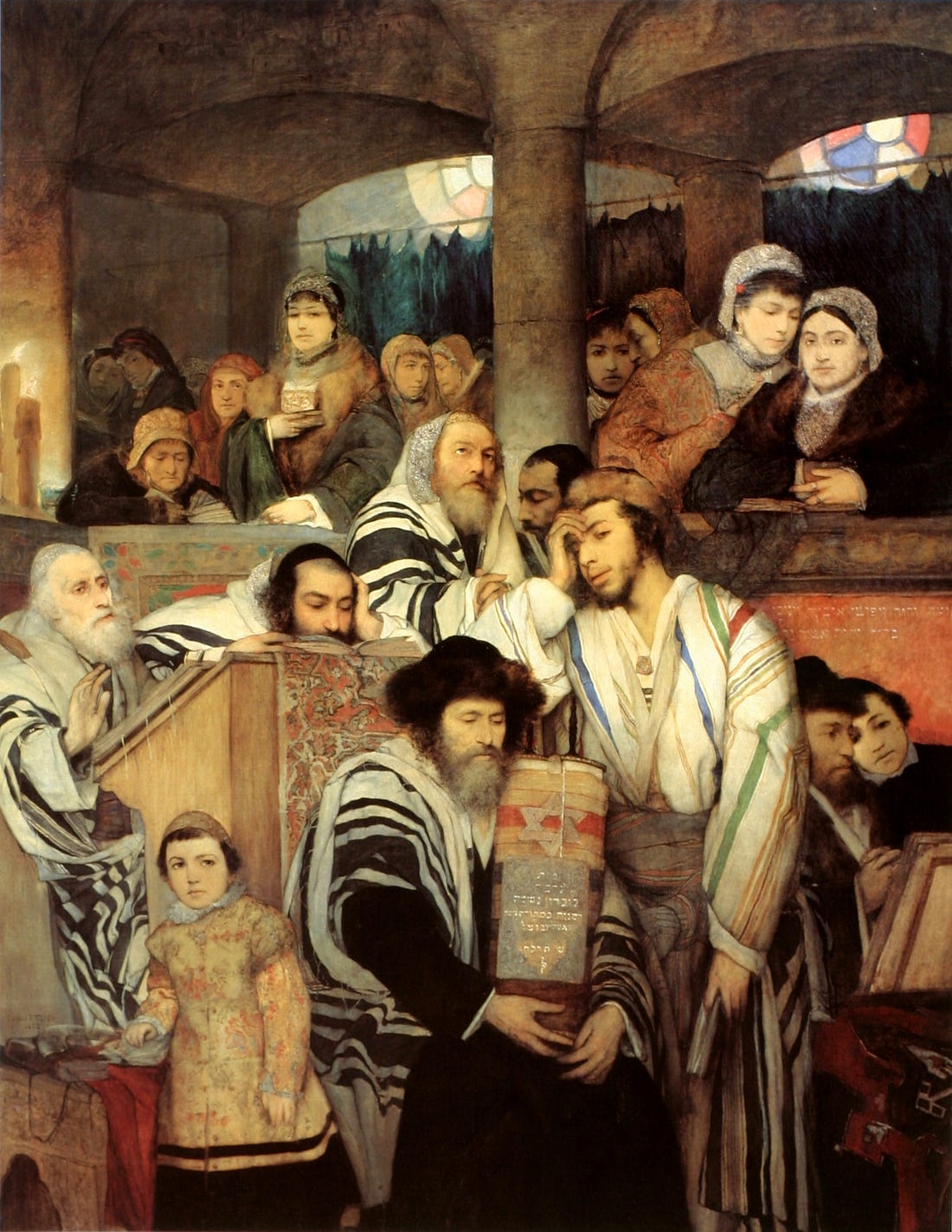 Think:
There's a painting that's often used in Jewish art calendars and brochures about Yom Kippur. It's by Maurycy Gottlieb, a 19th century Jewish painter from Poland.
It depicts traditional Yom Kippur services with Chasidic Jews in Galicia.
Maurycy was born to such a family.
Black and white talleisim, fur hats, somber faces. The traditional stuff.
But, if you look closely at the painting, you'll notice there's something a little different. In the middle of the crowd is Maurycy himself. Unlike everyone else in darker clothes, he's wearing colors. Look carefully, he's in the painting two more times. As a child on the bottom left and then as an adolescent with his father on the right.

He's journeying, he's finding himself, a questioner and a wanderer.

Perhaps like Joseph of the multicolored coat, he may be in strange lands.
He's come from somewhere and he's done so much to get where he is now - but how does that current him fit into the tapestry of his past?
Many Jews sense a struggle with their identities. They're proud to be Jewish, but what does that mean? Who am I when I'm Jewish?

On Yom Kippur we recite the Al Cheitten times during the five prayers of this holiest of holy days. In Kabbalah there are ten facets of the soul, five levels of how the sould descends into this world.

We're diving inward on Yom Kippur - peeling back the layers of the soul until we get to the essence. We don't need to eat, we don't need to drink, we're beyond all of that. We've taken a deep dive into the essence of our souls.
When we reach the core, there is no alienation, there is no more sense of Jewish dysphoria. There is only self - true self.
The fifth prayer of Yom Kippur is traditionally called Neilah, the closing of the Heavenly gates. In Chasidic thought, this is a moment of personal audience with G-d. We're alone with our Creator. Source with source, deep calling unto deep. There is nothing else. Wrong and evil don't exist there. And when we reach that level, the wholeness we experience is brought into the entire mundane year.

Gmar Chatima Tova - may we be sealed for a good sweet year.
---
Do:
Still looking for Yom Kippur services?
Join our friends Hadas Gallery + Synagogue for High Holy Days for the Arts.
New year? New chance to get your own Mezuzah!
---
Read

Why is it that Jews of all backgrounds fill the pews of Chabad? My friend and colleague Rabbi Eliezer Zalmanov in Munster, Indiana shares his thoughts.
From my archive: How Emoji help us understand the High Holidays.
A Rabbi in El Paso shares how his community began to heal.